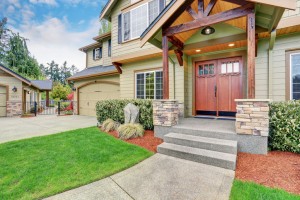 Now that we are in October, the end of the year is quickly approaching. Many monumental events have shaped this tumultuous year, but we have almost made it through to the other side: the promised land of 2021. If you've found the time to refresh your home's look, then you're probably inclined to paint. Use these exterior color suggestions to rejuvenate your home's curb appeal!
Combining Black and White 
Nothing is simpler than using the classic tandem of black and white. Imagine a house clad all in white, but complemented by its exterior colors being dressed in black. The doors, windows, trim, balcony rails, and the gutters being designed this way can help make your home the most eye-catching one on the block. Plus, these exterior colors are relatively easy to get from most reputable suppliers and vendors. 
Pairing Similar Tones and Shades
Another idea is to try mixing and matching a color palette that is not only complementary but also nearly identical. The foundations don't always have to be the same as the roof; experimenting with the right tones and shades can refresh the way your home looks, especially if you want to emphasize the pillars and columns surrounding your front stoop.  
Using Warmer Tones Instead
There is no doubt that the weather is cooling down – although September is the first blush of fall, October is when the autumn swoon really begins. That's why it can be a pleasant surprise when you utilize warmer tones as the basis of your exterior color choices. In order to make this look truly pop though, contemplate making the window trim a different color than the rest of the outside elements.  
Playing the Blues All Over Again 
You may not be accustomed to seeing a home that's been painted a robin egg blue. Even so, that vibe is perfectly valid and can stand out even better when the window trim is painted as strong purple. White, cream, dark grey, and black can exude an exciting flair that shows off the contemporary design of your home.  
Accentuating the Vibrancy of Red 
Red is a lucky color, you know. One of the best reasons to use red as the primary scheme for your abode's exterior color is that it is timeless. In other words, it'll always be on-trend. For best results, accentuate the fierce crimson with some pale trim while considering that the opacity provided by a darker roof can be a way to wow all of your neighbors.  
NEW LOCATIONS! COME VISIT US AND EXPLORE!
We've moved from the Dobbin Road location to our new, roomy location just down the road:
Columbia Paint and Decorating, a Benjamin Moore Dealer
6822 Oak Hall Lane, Suite C2, Columbia MD 21045
443-319-4001
Expect the same one-stop shopping for all your decorating needs. We are a full-service Benjamin Moore dealer offering the best quality of decorating products at the best prices around. We have a large supply of paint and paint supplies, wallcoverings, custom window treatments, fabrics, and now NEW flooring selections from Kaleen Rugs and Luxury Vinyl Tile selections. And of course the same excellent customer service, knowledge, and customer satisfaction that you've come to expect.
ANNOUNCING OUR SECOND LOCATION:
Clarksville Paint & Decorating, a Benjamin Moore Dealer
12447 Clarksville Pike, Suite 1A, Clarksville, MD