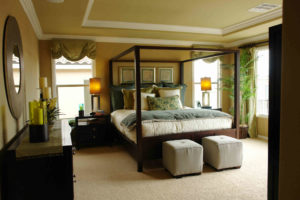 What does your budget look like these days? Sometimes, a full-on renovation might not be feasible. That's why it probably makes more sense to focus on one room at a time. For many homeowners, they might think that repainting a bedroom – or any other room, for that matter – is their only option when it comes to room design. However, we've come up with a list of tips that should hopefully give you some much-needed inspiration! 
Rethink the Layout 
Our first piece of advice for you is this: start by rethinking the layout of your room. Moving the furniture around can make a huge difference, especially if you take the dimensions of the room into account. Let's say that for the sake of argument, you had your bed placed against the short wall and the entertainment center on the long wall – well, that doesn't make too much sense, now does it? Consider flipping the orientation around instead. Plus, don't hesitate to rearrange some of the other furniture in there – a master bedroom typically has room space than a guest bedroom or the other smaller bedrooms in your home. 
Get New Pillows and Bedding
Fabrics and textiles have a role to play in how comfy your bedroom is. They can also help you change up the room design. The bed is without a doubt the anchor of the entire space – it's right there in the name, after all! Swap out the current throw pillows, duvets, and blankets. Do you have a weighted blanket to help you sleep at night? Then it is something else you can switch out as well – just think about the different colors you can use!
Play Around with the Lights 
It's important to have your bedroom be as light and airy as possible – at least during the day. At night, too much light can make it harder to sleep. That's why you shouldn't ignore the importance of both natural and artificial light in terms of room design. Pick out new lampshades, or trade them out for brand new lamps entirely. Wall-mounted sconces are an elegant touch that you can make even more sophisticated with smart bulbs.  
NEW LOCATIONS! COME VISIT US AND EXPLORE!
We've moved from the Dobbin Road location to our new, roomy location just down the road:
Columbia Paint and Decorating, a Benjamin Moore Dealer
6822 Oak Hall Lane, Suite C2, Columbia MD 21045
443-319-4001
Expect the same one-stop shopping for all your decorating needs. We are a full-service Benjamin Moore dealer offering the best quality decorating products at the best prices around. We have a large supply of paint and paint supplies, wallcoverings, custom window treatments, fabrics, and now NEW flooring selections from Kaleen Rugs and Luxury Vinyl Tile selections. And of course, the same excellent customer service, knowledge, and customer satisfaction that you've come to expect.
ANNOUNCING OUR SECOND LOCATION:
Clarksville Paint & Decorating, a Benjamin Moore Dealer
12447 Clarksville Pike, Suite 1A, Clarksville, MD