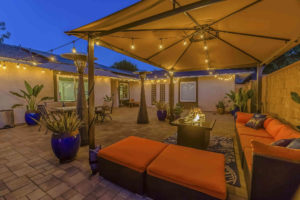 Welcome, welcome, welcome! This must be it, welcome to the New Year! Last time out, we discussed some interior design trends that are currently gaining momentum with homeowners everywhere. There's no question that the pandemic and resulting months of quarantine have led to everyone staying home and trying to avoid social gatherings. Even so, that doesn't mean you can't look to redo the atmosphere of your humble abode! 
Awe-Inspiring Backyard Playgrounds
Okay, so we must confess that this is stretching the definition of "interior design" quite a bit, but bear with us. It is adjacent to your house, and even if it is in your yard it's on your property and it's certainly an upgrade over a plain old treehouse. Swingsets are a relic of the past, and while they are still fun, pump the fun factor up a notch with zip lines, obstacle courses, and climbing walls to help your kids get some fresh air and time exercising recess-style!
An Expanded Outdoor Kitchen
Another addition to your home that is technically outside your home is the exterior kitchen. If you are smack dab in the middle of a kitchen remodeling project or renovation, then having a second kitchen could be a huge relief from the stress involved especially when you need to cook a wholesome meal for your whole family. Fireplaces, fire pits, patios, decks, and screened-in porches are gaining cachet with homeowners who might also want to dabble in having a seating area, sink, and refrigerator even if they cannot afford to go the whole nine yards with stovetops and counter space!
Intelligent Bathrooms
Smart technology and virtual assistants have made life so much easier lately. Just think – you can control the lights with your voice or your smartphone from one end of your home to the other! Why should the bathroom be an exception? A bidet could be what you need to get that extra squeaky clean feeling that a conventional toilet just can't provide; plus other touchless appliances will help improve your overall feeling of hygiene. Motion-sensor lighting and smart temperature controls for the cold floors can also be a nice touch for when you get out of a steamy shower and don't want to tiptoe across the tile to pick up your towel!  
NEW LOCATIONS! COME VISIT US AND EXPLORE!
We've moved from the Dobbin Road location to our new, roomy location just down the road:
Columbia Paint and Decorating, a Benjamin Moore Dealer
6822 Oak Hall Lane, Suite C2, Columbia MD 21045
443-319-4001
Expect the same one-stop shopping for all your decorating needs. We are a full-service Benjamin Moore dealer offering the best quality decorating products at the best prices around. We have a large supply of paint and paint supplies, wallcoverings, custom window treatments, fabrics, and now NEW flooring selections from Kaleen Rugs and Luxury Vinyl Tile selections. And of course, the same excellent customer service, knowledge, and customer satisfaction that you've come to expect.
ANNOUNCING OUR SECOND LOCATION:
Clarksville Paint & Decorating, a Benjamin Moore Dealer
12447 Clarksville Pike, Suite 1A, Clarksville, MD