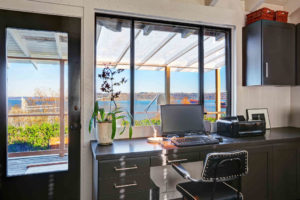 Happy New Year, sort of! As was the case for the majority of 2020, here in 2021 we are all bound to spend much more time at home. You've probably been dreaming about the different ways you can spruce up your home – both the outdoor living spaces and in terms of interior design. To that end, we've compiled a list of some of the most interesting design ideas that are trending for the rest of the year – and perhaps down the road as well!
A Spacious Home Office
The shift to working remotely (and mostly inside your own house as opposed to a library or coffee shop) has upended our traditional perception of what a typical commute looks like. As such, a more-spacious home office is the order of the day. Even if you live in a small apartment or a cramped townhouse, you can set aside some space to turn it into an office. It could also double as a hideaway for your shy cat or dog who might not want to interact with new pets or see unexpected visitors.  
Definitely Defined Personal Spaces 
Open floor plans used to be all the rage – and we don't want to discourage you from choosing that style of interior design. Even so, having a bubble of personal space has become even more important – especially if you need to isolate yourself from everyone else in your household because you feel unwell! Pocket rooms and concealed nooks count as two examples of this new fad.
Going Green – Quite Literally 
You probably already know what it is to live clean and green; focusing on eco-friendly ways to save resources, for instance. But in this case, we are being quite literal about going green. Use houseplants and indoor gardens to help you reconnect with nature without going for a hike! 
Incorporating Rattan Accessories and Accents 
Another idea is to consider different textures and materials to add to your interior design wish list. Rattan is especially fabulous when used for smaller touches like drink holders and bed frames.
Integrating Wood-Grain into the Kitchen Area
Don't leave the kitchen out of all of the fun! One way to renew the look and feel of your cooking space is to integrate wood-grain. How should you do this? Rethink the cabinets and countertops you rely on every day, and go all natural! 
NEW LOCATIONS! COME VISIT US AND EXPLORE!
We've moved from the Dobbin Road location to our new, roomy location just down the road:
Columbia Paint and Decorating, a Benjamin Moore Dealer
6822 Oak Hall Lane, Suite C2, Columbia MD 21045
443-319-4001
Expect the same one-stop shopping for all your decorating needs. We are a full-service Benjamin Moore dealer offering the best quality decorating products at the best prices around. We have a large supply of paint and paint supplies, wallcoverings, custom window treatments, fabrics, and now NEW flooring selections from Kaleen Rugs and Luxury Vinyl Tile selections. And of course, the same excellent customer service, knowledge, and customer satisfaction that you've come to expect.
ANNOUNCING OUR SECOND LOCATION:
Clarksville Paint & Decorating, a Benjamin Moore Dealer
12447 Clarksville Pike, Suite 1A, Clarksville, MD