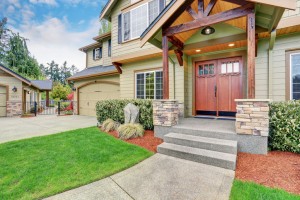 Choosing a new paint scheme for your home can help improve your curb appeal. The trick of it is you have to be mindful of the colors you have now and why you wanted to change the color scheme in the first place. 
Reflect History 
One idea for painting your home only really makes sense if you have an older home. If you do, then it's time to plan out a facelift. At the same time, you will want to reflect the history of your home. Think about when your home was first built and do you research to find out when the home was built and take inspiration from that. Do remember that older trends might not be in style anymore, which is why choosing a newer aesthetic might be a better idea instead, as we will see.  
Embrace Modernity 
Likewise, you can embrace modernity and choose a new paint palette that wasn't there before. Brighter colors can do this, as long as it isn't too exuberant – you don't want to run afoul of your homeowners association or make it an eyesore that could bother your neighbors.
Get Inspiration from Neighbors 
Talk to your neighbors and see what they did the last time they had painted their homes, especially if they have been in your neighborhood far longer than you have. It also depends on the lot in which your home is built – a cottage in the woods is going to be much different than a single-family home located in the middle of an up-and-coming development in the suburbs of a major city such as Baltimore or Annapolis.  
Look to Nature Instead 
Finally, you could get inspiration from nature instead. Again, this depends on the environment in which you live. If you live near a forest, you will probably want greens and browns – if you are by the beach, then white and yellow and gold might be better, and if you live in the suburbs, blue and red might be a better choice instead.  
NEW LOCATIONS! COME VISIT US AND EXPLORE!
We've moved from the Dobbin Road location to our new, roomy location just down the road:
Columbia Paint and Decorating, a Benjamin Moore Dealer
6822 Oak Hall Lane, Suite C2, Columbia MD 21045
443-319-4001
Expect the same one-stop shopping for all your decorating needs. We are a full-service Benjamin Moore dealer offering the best quality of decorating products at the best prices around. We have a large supply of paint and paint supplies, wallcoverings, custom window treatments, fabrics and now NEW flooring selections from Kaleen Rugs and Luxury Vinyl Tile selections. And of course the same excellent customer service, knowledge and customer satisfaction that you've come to expect.
ANNOUNCING OUR SECOND LOCATION:
Clarksville Paint & Decorating, a Benjamin Moore Dealer
12447 Clarksville Pike, Suite 1A, Clarksville, MD
443-552-1111