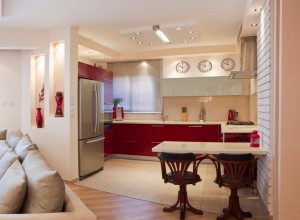 Deciding that it's time to update the wall color in your home is both exciting and daunting. Thankfully, there are some tips and tricks that can help you make the process a little bit easier. These tips are useful in just about any area of your home to make the painting process more efficient and the end result look more professional. 
Choose Paint Carefully
The first step is also the most fun, but there are certain things you do need to keep in mind before you choose your paint. The standard finish choices for most homes is to have a flat finish on the ceiling, an eggshell or satin finish on the walls, and a semi-gloss finish on the trim. While this isn't set in stone, it is a visually pleasing combination. Finally, remember that you often get what you pay for. If you're worried about having to clean the walls (like, after your toddler colors all over them), pay more for the paint that makes this task easier. 
Clean And Sand The Walls
Dirty walls won't hold paint as well, so it is important to thoroughly clean them and sand them as necessary. In the kitchen, for example, the walls often build up a thin layer of cooking grease and grime over the years. This can be scrubbed off with a good scrubbie and some cleaner, but if you don't do this important step the grime will keep the paint from adhering. Sanding is important to remove any imperfections in the surface before you add a fresh coat of paint (which might make those little imperfections much more noticeable).
Move What You Can
Move anything that you can out of the room so you have space to work. If you can't move it out completely, at least move it into the center so it is away from the walls. If any of your furniture is too big for you to safely move, you should consider having professionals come in to handle the task.
Put Down Plastic
Protect your floors and anything that you can't move out of the room with a layer of plastic. It might seem like an unnecessary step, but it will save you a lot of time and trouble cleaning up all those little drips and drops that find their way onto the floor.
NEW LOCATIONS! COME VISIT US AND EXPLORE!
We've moved from the Dobbin Road location to our new, roomy location just down the road:
Columbia Paint and Decorating, a Benjamin Moore Dealer
6822 Oak Hall Lane, Suite C2, Columbia MD 21045
443-319-4001
Expect the same one-stop shopping for all your decorating needs. We are a full-service Benjamin Moore dealer offering the best quality of decorating products at the best prices around. We have a large supply of paint and paint supplies, wallcoverings, custom window treatments, fabrics and now NEW flooring selections from Kaleen Rugs and Luxury Vinyl Tile selections. And of course the same excellent customer service, knowledge and customer satisfaction that you've come to expect.
ANNOUNCING OUR SECOND LOCATION:
Clarksville Paint & Decorating, a Benjamin Moore Dealer
12447 Clarksville Pike, Suite 1A, Clarksville, MD
443-552-1111