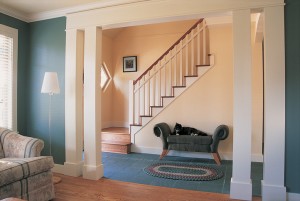 Fall is a season of transition. After a long summer, it's time for the world to change again – in this case, we meant literally! The Earth is about to tilt away from the sun, and in the northern hemisphere, we experience that as winter. It's time to start painting the inside of your home, even if you might not be able to show it off this holiday season!
It's Time to Infuse Your Home with Some Personality
When you design and build a custom home, you have complete control over each and every aspect of how it looks. Essentially, you pour yourself into every last inch and thus showcase your unique personality through it. Truly making your home your own, however, is much trickier when you move into a home that isn't classified as new construction. That's why painting the walls in every room can help change that situation.  
You See Signs of Damaged Surfaces 
Given enough time, your surfaces will show signs of damage. This is typically due to ordinary wear and tear. Kids and pets might scratch or ding the wall, even if by accident. A fresh coat of paint can hide these imperfections. You could also spill liquids, soups, or see condiments and beverages explode all over the ceiling – in which case, it's time to renew the paint. 
The Current Color Scheme is Tired 
Did you know that the sunlight pouring in to your home can exhaust the paint you have? Swatches of paint help you test out different color combinations before you apply them. Modern paints are more resistant to discoloration Weird lines or fades indicate that the painting is wearing thin and needs another layer or two. 
The Paint Itself is Too Old 
Then you've got to consider the physical age of the paint itself. When was the last time you did some room painting? If you can't remember then it's a sign you should put it at the top of your weekend to-do list. Cracks, chips, warping and bubbling all tell you that the paint has reached the end of its lifespan. 
You've Got to Refresh the Wallpaper 
Finally, bear in mind that wallpaper has just as much of an effect on your home's aesthetics as a brand new painting project does. Decades-old wallpaper that is now out of style can be ugly and not reflect the look and feel of the room. Get rid of it all and consider painting the room instead. There's nothing quite like a freshly painted wall, ceiling, or floor!
NEW LOCATIONS! COME VISIT US AND EXPLORE!
We've moved from the Dobbin Road location to our new, roomy location just down the road:
Columbia Paint and Decorating, a Benjamin Moore Dealer
6822 Oak Hall Lane, Suite C2, Columbia MD 21045
443-319-4001
Expect the same one-stop shopping for all your decorating needs. We are a full-service Benjamin Moore dealer offering the best quality of decorating products at the best prices around. We have a large supply of paint and paint supplies, wallcoverings, custom window treatments, fabrics, and now NEW flooring selections from Kaleen Rugs and Luxury Vinyl Tile selections. And of course the same excellent customer service, knowledge, and customer satisfaction that you've come to expect.
ANNOUNCING OUR SECOND LOCATION:
Clarksville Paint & Decorating, a Benjamin Moore Dealer
12447 Clarksville Pike, Suite 1A, Clarksville, MD