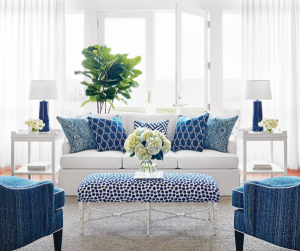 Many plants blossom and grow during the warmer months of the year. Some homeowners often make their homes more lively with houseplants. If you have houseplants, here are some fun paint colors that complement your indoor plants.
Navy Blue
Consider including blue hues in your sunroom or any room with plants. Even though it may not initially seem like a sensible choice, tones of navy blue offer a sophisticated look to a modern-style home without being overbearing.
Brown
Using brown can improve the appearance of any indoor plants you arrange. The calming effects of earth tones are especially noticeable in spaces with décor, such as wooden floors, stone fireplaces, marble worktops, and wooden cabinets.
White
White walls aren't necessarily bland or uninteresting, despite the common perception that they can be. When you scatter houseplants across your home, they should be the center of attention. White, off-white, and light grey shades open up a smaller space, which works wonderfully for those areas with plants.
A Charcoal-Like Appearance 
The effect of charcoal paint colors is unique and enjoyable: they draw attention to the indoor plants in the space. A charcoal-like color works best to make larger rooms feel cozier and more intimate. To avoid having an excessively dark area, try to balance that optical illusion by incorporating more natural lighting in your space.
NEW LOCATIONS! VISIT US HERE AND EXPLORE!
We've moved from the Dobbin Road location to our new, roomy location just down the road:
Columbia Paint and Decorating, a Benjamin Moore Dealer: 6822 Oak Hall Lane, Suite C2, Columbia MD 21045 phone number: 443-319-4001
Expect the same one-stop shopping for all your decorating needs. We are a full-service Benjamin Moore dealer offering the best quality decorating products at the best prices. We have ample paint and paint supplies, wallcoverings, custom window treatments, fabrics, and new flooring selections from Kaleen Rugs and Luxury Vinyl Tile samples. And, of course, the same excellent customer service, knowledge, and customer satisfaction you've expected.
ANNOUNCING OUR SECOND LOCATION:
Clarksville Paint & Decorating, a Benjamin Moore Dealer
12447 Clarksville Pike, Suite 1A, Clarksville, MD