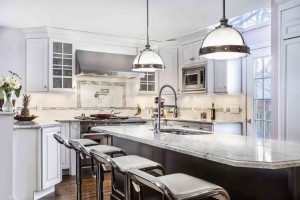 Redoing different parts of your home can be an exciting prospect. However, not everyone has the means to remodel their kitchen or renovate their bathroom. Sometimes, it's easier to make smaller changes that might not be as flashy or as time-consuming. Either way, they are well worth it. Have you been wondering what to do when it is time to repaint the kitchen? Read on to find out how to proceed!
Getting Started 
So now let's take a closer look at how to get started. Move the bigger appliances out of the way – in other words, put them in the middle of the kitchen. Other suggestions are to clear out the kitchen or place plastic tarps to keep everything safe and clean. If you are going to be painting the backsplashes, though, give yourself enough space to do so. 
What Comes Next 
Once that is settled, turn your attention to the light switches and electrical sockets. Remove them and put them aside in plastic baggies with their screws so that nothing gets lost. 
And After That
Getting rid of cobwebs is immensely important, even if this is a cleaning task you don't typically undertake. Washing the walls with a 50/50 mixture of water and vinegar can get rid of the grime and make the surfaces more receptive to the new layer of paint that you are about to add to your kitchen. 
Test the Color, Pour the Paint
Choosing the right colors can involve hours of research and experimentation. Protect the trim with painter's tape and splash some small patches of the wall before you commit. After all, it's entirely possible for a paint color to look better inside its can than on your walls. Try to keep in mind how much natural light enters your kitchen. With all of that in mind, it's time to begin pouring the paint. Putting together larger batches of paint in clean containers will help speed up the process considerably. 
Double Coat and Clean Up
Always remember that you will need to double coat the walls with your chosen paint shade and texture. Primers go a long way towards ensuring this happens. After you're done, you've got to clean up. Use hot and soapy water to clean off the brushes or rollers, and wring out residual paint. Then put the switch and socket covers back on, and you're done!
NEW LOCATIONS! COME VISIT US AND EXPLORE!
We've moved from the Dobbin Road location to our new, roomy location just down the road:
Columbia Paint and Decorating, a Benjamin Moore Dealer
6822 Oak Hall Lane, Suite C2, Columbia MD 21045
443-319-4001
Expect the same one-stop shopping for all your decorating needs. We are a full-service Benjamin Moore dealer offering the best quality of decorating products at the best prices around. We have a large supply of paint and paint supplies, wallcoverings, custom window treatments, fabrics, and now NEW flooring selections from Kaleen Rugs and Luxury Vinyl Tile selections. And of course the same excellent customer service, knowledge, and customer satisfaction that you've come to expect.
ANNOUNCING OUR SECOND LOCATION:
Clarksville Paint & Decorating, a Benjamin Moore Dealer
12447 Clarksville Pike, Suite 1A, Clarksville, MD