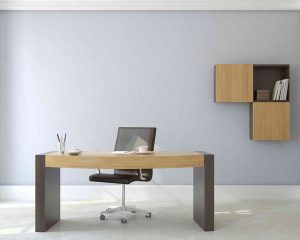 When it comes to lighting, natural light is all the rage. However, not every room can have the best natural light selection. As a result, making the most out of all your rooms is important for homeowners. There are absolutely some tried and true ways that you can easily amp up the natural light that appears to be in the room — all it could take it a little interior paint. Here are some helpful ways to make the most out of your darker rooms with a touch of paint.
Sunlight And Your Paint Colors
You may have never thought about how the sun affects your wall color, but it can have a significant impact. Both natural and artificial light can impact the color in a room. In fact, as the sun itself makes its way across the sky, it ultimately changes the amount of natural light that streams into any room. As a result, being mindful of how that light can affect the colors of your walls is integral to homeowners' happiness with their interior design scheme. Depending on what direction a room is facing, the amount of natural sunlight will vary. And as such, the wall colors should vary accordingly.
How Light Affects Color
Artificial lighting can also play a massive role in how colors appear in any room. In fact, fluorescent bulbs will amplify blues while "soft white" fluorescent bulbs typically generate a warm, yellow tone. These specific lightbulbs can have a fading effect on virtually any paint color which can hinder how people see your home and your enjoyment of it in general. 
Colors That Reflect The Light Best
The reality is, all colors will reflect light slightly differently. So when you are looking for the right paint color in a room, consider how it may reflect light and choose colors that compliment the lighting scheme in any room. 
Bottom Line
At the end of the day, finding the perfect color for any room will require some careful thought and consideration. In fact, considering how both natural and artificial light will affect the wall color is one of the best ways to ensure you are getting the color you want on the inside of your home. 
NEW LOCATIONS! COME VISIT US AND EXPLORE!
We've moved from the Dobbin Road location to our new, roomy location just down the road:
Columbia Paint and Decorating, a Benjamin Moore Dealer
6822 OakR Hall Lane, Suite C2, Columbia MD 21045
443-319-4001
Expect the same one-stop shopping for all your decorating needs. We are a full-service Benjamin Moore dealer offering the best quality of decorating products at the best prices around. We have a large supply of paint and paint supplies, wallcoverings, custom window treatments, fabrics, and now NEW flooring selections from Kaleen Rugs and Luxury Vinyl Tile selections. And of course the same excellent customer service, knowledge and customer satisfaction that you've come to expect.
ANNOUNCING OUR SECOND LOCATION:
Clarksville Paint & Decorating, a Benjamin Moore Dealer
12447 Clarksville Pike, Suite 1A, Clarksville, MD