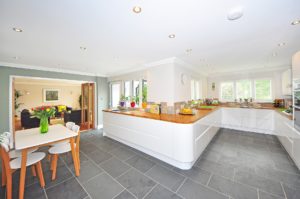 The tile in your kitchen and bathroom is often overlooked. While it's important to keep it clean, you might not realize that you can paint them as well. Remodeling your kitchen or bathroom is one way to rejuvenate them, but if you want to save some money, you could consider painting ceramic tile instead. 
Is It Time to Paint? 
Do you have some boring-looking tile? If so, you can refresh them. While they are indeed paintable, avoid doing so if they are located in a high-traffic area or somewhere they are liable to absorb excessive amounts of moisture. So this means that painting a kitchen backsplash, the floor in a guest bathroom, or on the walls in a half-bath would all be bad ideas. Do you have decorative tiles in your hallways? Believe it or not, you can paint them as well. Just make sure they won't be subject to too much wear and tear. 
How You Know You Shouldn't Paint It 
As we mentioned above, there are going to be times where you should avoid painting tile. Think about the different tile floors in your home. How much foot traffic are they expected to bear? Wear and tear from feet and shoes have a much bigger impact on these floors than you might expect. The coating will break down over time, which leaves the tile looking worse than it did before. Even though you might have tile in the shower or near the kitchen sink, these two areas are not good candidates for tile painting. Moisture can infiltrate between the layers and weaken the bond between the paint and the substrate. 
Tips for Painting Ceramic Tile
When you are ready, we have some advice on how to start painting ceramic tile. The first step is to clean the relevant area; fix any cracked tiles or loose grout. Sand down the tile and then clean again. Then use a high-adhesion primer. After that, you can paint the tile. High-quality alkyd paint will make the job much easier.   
NEW LOCATIONS! COME VISIT US AND EXPLORE!
We've moved from the Dobbin Road location to our new, roomy location just down the road:
Columbia Paint and Decorating, a Benjamin Moore Dealer
6822 OakR Hall Lane, Suite C2, Columbia MD 21045
443-319-4001
Expect the same one-stop shopping for all your decorating needs. We are a full-service Benjamin Moore dealer offering the best quality of decorating products at the best prices around. We have a large supply of paint and paint supplies, wallcoverings, custom window treatments, fabrics, and now NEW flooring selections from Kaleen Rugs and Luxury Vinyl Tile selections. And of course the same excellent customer service, knowledge and customer satisfaction that you've come to expect.
ANNOUNCING OUR SECOND LOCATION:
Clarksville Paint & Decorating, a Benjamin Moore Dealer
12447 Clarksville Pike, Suite 1A, Clarksville, MD