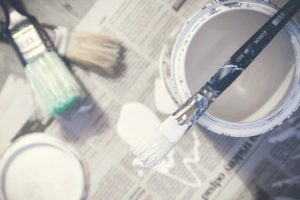 They say that you shouldn't wear white after Labor Day. Even so, this supposed fashion faux-pas doesn't extend to your home. You can paint all sorts of surfaces inside your house, and you shouldn't hesitate to use paler shades and colors of paints. If you are ready to do so, then here are some tips for how to make the most of your paint selection!
Consider the Amount of Natural Light Around Your Paint
Natural light is immensely important. Summer is coming to its conclusion and fall is almost here. That means the quality and amount of light that enters your home is also changing. Places like New York and New England experience lots of grey light, while in warmer climates such as in Miami or Phoenix, the blue light filters into a pinker cast than you might expect. But in other places, such as farther down along the eastern seaboard, you will also have to consider the artificial light you use in the room as well. Cool and true neutral colors are probably going to be your best bets.
Match Your Paint with Function and Current Color
How do all of the rooms in your home function? What colors are they painted right now? White paint can transform all of these spaces. Kitchens and living rooms are kinder to warmer tones than in bedrooms or in-home offices. Consider the different styles and furnishings inside each room, too, as that can have a bigger impact on everything than you might think. The color of the floors (whether or not they are made of hardwood) can have an effect on the white paint on your walls.
Factor in the Trim
You can't forget about the trim, either. The shade of the trim should be kept simple so that it doesn't distract the eye of the viewer. Are you planning on making the entire room white? In that case, the trim and the ceiling should have a different color, shade, or texture of white paint accordingly.
NEW LOCATIONS! COME VISIT US AND EXPLORE!
We've moved from the Dobbin Road location to our new, roomy location just down the road:
Columbia Paint and Decorating, a Benjamin Moore Dealer
6822 Oak Hall Lane, Suite C2, Columbia MD 21045
443-319-4001
Expect the same one-stop shopping for all your decorating needs. We are a full-service Benjamin Moore dealer offering the best quality of decorating products at the best prices around. We have a large supply of paint and paint supplies, wallcoverings, custom window treatments, fabrics, and now NEW flooring selections from Kaleen Rugs and Luxury Vinyl Tile selections. And of course the same excellent customer service, knowledge, and customer satisfaction that you've come to expect.
ANNOUNCING OUR SECOND LOCATION:
Clarksville Paint & Decorating, a Benjamin Moore Dealer
12447 Clarksville Pike, Suite 1A, Clarksville, MD