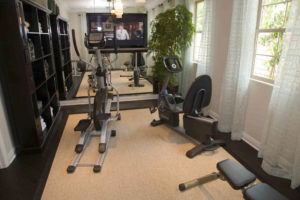 The conceptualization of science is truly one of humanity's proudest achievements. Think about it: it has led to so many innovations, from how we get around (cars) to how we communicate (computers) and even how we can build and optimize our homes. Much like last time, we've collected some more intriguing paint colors for your consideration. Scientific studies have proven that they make a difference in how you feel!
Bold Red to Get Pumped in the Home Gym
Returning to your old gym routine these days can be a struggle. After all, who wants to wake up at five in the morning to go running? Or wipe down machines both before and after you use them? While that second thing is just common courtesy, the notion of working out is something most people want to do but don't have the dedication to follow through. That's where the home gym comes in; a comfy and convenient place to get your gains in relative peace. Bright red energizes you and helps you reach peak physical performance, to boot. 
Calm Lavender to Help You Get Crafty 
Some areas of the house are going to be more relaxed than others. Once you step into your craft room, you'd probably prefer the proceedings to be a bit more low-key than when you are getting in one more rep. Lilac, in particular, can give you a sense of mystery. This effect, in turn, activates your creativity and curiosity. Your hobby room could also do with berry-infused tones mixed with some grey neutrals for balance.
Warm White for the Dining Room
White can come across as cold and sterile. As such, you might be baffled by how it could be considered "warm" instead. Some shades of white are less impersonal than others. Use this influence to your advantage by making your home's dining room a place where everyone will look forward to being your guest. 
Sleek Silver for Entryways 
The entryways and foyers that lead into our living spaces are often underappreciated. That's because they aren't typically as flashy as the other parts of our dwellings. Grey, silver, and silvery-white combine to instill a sense of slowing down in a normally chaotic spot. 
Citrus Orange for Home Offices
Need to get inspired to writing the next Great American Novel? How about gaining some motivation to tackle working from home? Citruses aren't just in your morning juice anymore. While it's tempting to douse all of the walls with this upbeat color, that could turn out to be a tad overwhelming. Instead, think about splashing orange on an accent wall. 
NEW LOCATIONS! VISIT US HERE AND EXPLORE!
We've moved from the Dobbin Road location to our new, roomy location just down the road:
Columbia Paint and Decorating, a Benjamin Moore Dealer
6822 Oak Hall Lane, Suite C2, Columbia MD 21045
443-319-4001
Expect the same one-stop shopping for all your decorating needs. We are a full-service Benjamin Moore dealer offering the best quality decorating products at the best prices around. We have an ample supply of paint and paint supplies, wallcoverings, custom window treatments, fabrics, and now NEW flooring selections from Kaleen Rugs and Luxury Vinyl Tile samples. And, of course, the same excellent customer service, knowledge, and customer satisfaction that you've come to expect.
ANNOUNCING OUR SECOND LOCATION:
Clarksville Paint & Decorating, a Benjamin Moore Dealer
12447 Clarksville Pike, Suite 1A, Clarksville, MD