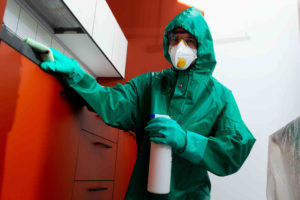 Cases of Covid infections are dropping. Vaccination rates are rising, and people are slowly growing more immune, especially if they have already had the virus and recovered from its nasty effects. While you may not have heard of it before, microbicidal paint is not a new invention. However, this particular paint formula has never had a spotlight on it until now. 
So What is Microbicidal Paint? 
In simplest terms, microbicidal paint is intended to kill germs. It destroys any surface-level bacteria that it encounters. Although direct contact with high-touch surfaces such as door handles, bathroom faucets, and elevator buttons is being discouraged, people still need to interact with them on a constant basis. This paint eliminates several microbes: staph, MRSA, E.coli, and VRE (another antibiotic-resistant germ) in less than two hours. It's not a one-shot deal either; this formula proves effective even after multiple instances of contamination. In fact, it can last for up to four years provided that the surfaces are looked after properly.  
Fending Off Potential Staph Infections 
Staph flourishes on many different surfaces. Unfortunately, it's a common bacterium that is alarmingly contagious. Once you've been diagnosed with staph, the treatment is relatively simple. However, the MRSA strain resists ordinary-grade antibiotics, which makes it even more dangerous. The first step in decreasing the staph infection rate within your building is to apply microbicidal paint.
For Hospitals and Healthcare Facilities 
Hospitals, in particular, should upgrade to using this brand of paint. That way, minimizing healthcare-acquired infections (HAIs) becomes much easier. HAIs are incidental sicknesses that patients are exposed to while they're being treated for other medical conditions. Hospitals and other healthcare facilities rely on rigorous disinfection and sanitization policies, but they aren't foolproof. 
Other Possible Venues for Use
While microbicidal paint yields enormous dividends in hospitals, there are other places in which to apply it. Schools, daycares, and senior centers serve more vulnerable groups such as children and the elderly. When social distancing measures went into effect, they were among the first venues to be shut down. Restaurants, hotels, and food production facilities were also shuttered due to the pandemic. However, since reopenings are starting up again, there has never been a better time to upgrade the paint you use on your walls. 
NEW LOCATIONS! VISIT US HERE AND EXPLORE!
We've moved from the Dobbin Road location to our new, roomy location just down the road:
Columbia Paint and Decorating, a Benjamin Moore Dealer
6822 Oak Hall Lane, Suite C2, Columbia MD 21045
443-319-4001
Expect the same one-stop shopping for all your decorating needs. We are a full-service Benjamin Moore dealer offering the best quality decorating products at the best prices around. We have an ample supply of paint and paint supplies, wallcoverings, custom window treatments, fabrics, and now NEW flooring selections from Kaleen Rugs and Luxury Vinyl Tile samples. And, of course, the same excellent customer service, knowledge, and customer satisfaction that you've come to expect.
ANNOUNCING OUR SECOND LOCATION:
Clarksville Paint & Decorating, a Benjamin Moore Dealer
12447 Clarksville Pike, Suite 1A, Clarksville, MD