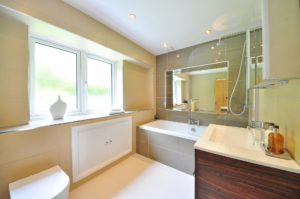 Painting the rooms in your house can be tricky. One of the trickiest places to paint is the bathroom. After all, it is one of the most humid places in your home, next to the kitchen, of course. If you are preparing to paint your bathroom, then you might not know how to get started. Fortunately, we've come up with a list of tips for you to follow! 
Start by Cleaning the Walls 
The first thing you will want to do is to make sure that the walls are clean. Scum and dirt on the walls certainly turn the whole room into an eyesore, but if you simply paint over it, that won't be enough to remove the problem. Eventually, the paint will wear off, revealing the imperfections that you meant to hide. Your fresh coat of paint won't be so fresh anymore. Even if you are hiring a professional painter to paint your bathroom for you, you should ensure the walls are clean first. Try using some laundry detergent diluted in a gallon of water. 
Choose the Color 
The next step is to choose the color you want the bathroom to be. Experiment with different swatches of color before you make a decision. This can help stop you from making a bad decision and regretting it when you realize that the color doesn't work.  
Rearrange the Room 
Although this sounds like an odd suggestion, rearrange the room. Move the toilet tank out of the way, cover up the mirrors, and move toiletries and towels out of the room for now. Use painters' tape to cover up anything you don't want to paint over. 
Use the Correct Paint 
Be sure to use the right kind of paint. The paint you select should be of a high quality, able to withstand mold, mildew, and moisture. 
Match the Ceiling and the Wall 
Finally, be sure to match the colors of the ceiling and the wall. When you paint the wall and the ceiling the same color, it helps open up the space, which is important for smaller bathrooms. A dark ceiling shrinks the room. Another way to trick the eye into thinking the room is taller than it is is to use vertical or horizontal stripes. 
NEW LOCATIONS! COME VISIT US AND EXPLORE!
We've moved from the Dobbin Road location to our new, roomy location just down the road:
Columbia Paint and Decorating, a Benjamin Moore Dealer
6822 Oak Hall Lane, Suite C2, Columbia MD 21045
443-319-4001
Expect the same one-stop shopping for all your decorating needs. We are a full-service Benjamin Moore dealer offering the best quality of decorating products at the best prices around. We have a large supply of paint and paint supplies, wallcoverings, custom window treatments, fabrics, and now NEW flooring selections from Kaleen Rugs and Luxury Vinyl Tile selections. And of course the same excellent customer service, knowledge and customer satisfaction that you've come to expect.
ANNOUNCING OUR SECOND LOCATION:
Clarksville Paint & Decorating, a Benjamin Moore Dealer
12447 Clarksville Pike, Suite 1A, Clarksville, MD