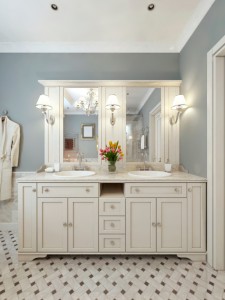 Bathrooms are one of the most important parts of any home. Even if you don't like the paint job that it has now, it's important to protect that paint. However, at some point, the paint will wear off. It's not that hard to choose and protect your bathroom paint. Here are some suggestions for you to follow! 
The Focal Point 
Various colors and designs have made the bathroom the star of the show when it comes to revitalizing different parts of your home. There are plenty of choices when it comes to floors, counters, fixtures, tubs, and showers. All of them need some coatings of paint. However, the bathroom is the likeliest place to suffer catastrophic moisture damage if you aren't careful. Temperature fluctuations from hot and cold water are part of the problem. Moisture levels, leaks, spills, and splashes also affect the integrity of your bathroom paint.  
Find the Right Gloss 
Start by finding the right gloss. High-gloss paint can withstand multiple rounds of scrubbing and drying. Unfortunately, one drawback of using this gloss is that it can show flaws and imperfections on the surface of the wall, which can damage your bathroom paint. Semi-gloss is an alternative that lasts but is also easy to work with. 
Consider Special Paint 
Another idea is to consider some special paint to use in your bathroom. A paint formula that can stand up to mold and mildew is also something to think about, unless it is for a half-bath or another bathroom that isn't visited all that often. 
Improve Ventilation 
Ventilation is important in every room in the house. One way to preserve your bathroom paint is to improve the ventilation within it. It gets condensation and trapped, damp air out while bringing in fresh air that can help protect the layers of paint on the wall or behind the toilet. 
Consider the Lighting 
Don't forget about the lighting in the room. The wrong kind of lighting can dull the vibrant paint colors you've used to spruce up your bathroom. You shouldn't fall for that trap. Brighter lighting can make different shades pop! 
NEW LOCATIONS! COME VISIT US AND EXPLORE!
We've moved from the Dobbin Road location to our new, roomy location just down the road:
Columbia Paint and Decorating, a Benjamin Moore Dealer
6822 Oak Hall Lane, Suite C2, Columbia MD 21045
443-319-4001
Expect the same one-stop shopping for all your decorating needs. We are a full-service Benjamin Moore dealer offering the best quality of decorating products at the best prices around. We have a large supply of paint and paint supplies, wallcoverings, custom window treatments, fabrics, and now NEW flooring selections from Kaleen Rugs and Luxury Vinyl Tile selections. And of course the same excellent customer service, knowledge and customer satisfaction that you've come to expect.
ANNOUNCING OUR SECOND LOCATION:
Clarksville Paint & Decorating, a Benjamin Moore Dealer
12447 Clarksville Pike, Suite 1A, Clarksville, MD