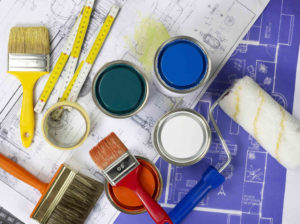 Ready to repaint your home? In that case, you'll need to find the right paint for the job. This choice goes beyond color, although that is the most important consideration. You'll also need to think about the interplay of color, shades, and tones. Additionally, light sources, woodwork textures, and room atmosphere come into play. Here are some helpful tips to get you started! 
Determine How Illuminated The Room Is 
Rooms need light. Of course, that simple statement is subject to numerous variables. For instance, keep in mind that natural light will stream in through uncovered windows. Then you've got to think about which way the light points. That matters too. Colors, rugs, and furniture affect how the new paint job looks and feels once it's dry. 
Decide Between Spacious or Cozy 
Your next decision has to do with the illusion of "space" within the room. We know that sounds odd, but hear us out. The distinct sensation of openness and spaciousness becomes more apparent when you use brighter paint colors. That's because the light will reflect; ultimately, your selection hinges on the atmosphere you want to cultivate inside your home. Do you want it to be spacious or cozy? If making your home cozier is your goal, darker colors will get you there. Regardless, play it cool. Overplaying your hand will weigh everything down.  
Judge How Cohesive the Results Will Be 
Let's say your home painting project is even more ambitious. Instead of just one room, you aim to paint multiple rooms all over the house. In that respect, cohesion becomes even more important. Proper coordination and cohesiveness imbue your beautiful home with a delightful sense of flow. Imagine for a minute that you are making a playlist for a friend. Finding the right "flow" between tracks can be so sonically pleasing. Now apply that principle to your next coat of paint. Complementary colors emanate a sense of unity without feeling drab, boring, or identical. 
The Wisest Way to Utilize White Paint
By then, you're probably wondering if it is a good idea to use white paint. Even though it looks plain and simple, white is incredibly challenging to use correctly. Warmth, sheen, and undertones could trip you up if you don't have professional assistance! 
NEW LOCATIONS! VISIT US HERE AND EXPLORE!
We've moved from the Dobbin Road location to our new, roomy location just down the road:
Columbia Paint and Decorating, a Benjamin Moore Dealer: 6822 Oak Hall Lane, Suite C2, Columbia MD 21045
 443-319-4001
Expect the same one-stop shopping for all your decorating needs. We are a full-service Benjamin Moore dealer offering the best quality decorating products at the best prices around. We have ample paint and paint supplies, wallcoverings, custom window treatments, fabrics, and now, NEW flooring selections from Kaleen Rugs and Luxury Vinyl Tile samples. And, of course, the same excellent customer service, knowledge, and customer satisfaction that you've come to expect.
ANNOUNCING OUR SECOND LOCATION:
Clarksville Paint & Decorating, a Benjamin Moore Dealer
12447 Clarksville Pike, Suite 1A, Clarksville, MD