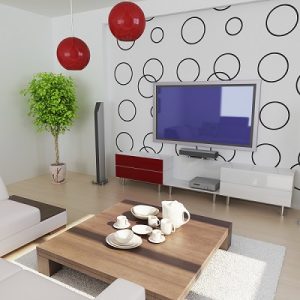 Wallcoverings come in many different forms. That means you're bound to have lots of options. Most people assume that the only coverings they can use are tacky and outdated. But wallpapers can look fantastic and add some vibrant charm to your interiors. Many patterns and prints are now in vogue, so take your pick!
Okay, So What Are They? 
These finishing touches are seen in both commercial buildings and residential properties. It's a catch-all term for wallpapers and textured fabrics. They perform functional duties (like keeping the walls clean) and provide a pop of aesthetic appeal. 
When Compared to Painting 
Maybe the idea of repainting doesn't excite you. After all, such a project can be laborious, tedious, and time-consuming. There's a good reason why the saying "like watching paint dry" exists. It means something is boring. So when you're comparing the two techniques, the following considerations apply.  
Consider Your Available Budget 
First of all, your available funding will limit what you can do for decorating and rejuvenating your walls. Painting is quicker, easier, and more affordable than its counterpart. On the other hand, wallcoverings aren't as messy. Plus, they tend to last longer than a few coats of paint can. The differing costs could end up offsetting each other. 
Make Appropriate and Tasteful Choices 
Wallpapers and wallcoverings, in general, are often associated with being downright ugly. That's because design tastes change over time. Something trendy now might not be this time next year. If the room you're altering looks okay when flavored with a single color, paint fits the bill.  Wallpapers are a bit more versatile, though. Besides, they can be more fun to look at for hours on end. Be sure to ask an interior designer and a professional color consultant for advice. Hiding the seams is important, and aligning everything makes a difference too. 
Factor in Expected Foot Traffic 
Wallcoverings belong in some rooms and not others. Think about what the room is typically used for and how busy it gets. Foot traffic does more than taking a toll on your flooring. A conference room in a corporate office or private library in a custom home is a better environment than, say, in the kitchen or bathroom. Too much moisture can mess up your plans and your desired outcomes.     
NEW LOCATIONS! VISIT US HERE AND EXPLORE!
We've moved from the Dobbin Road location to our new, roomy location just down the road:
Columbia Paint and Decorating, a Benjamin Moore Dealer: 6822 Oak Hall Lane, Suite C2, Columbia MD 21045 phone number: 443-319-4001
Expect the same one-stop shopping for all your decorating needs. We are a full-service Benjamin Moore dealer offering the best quality decorating products at the best prices around. We have ample paint and paint supplies, wallcoverings, custom window treatments, fabrics, and now, NEW flooring selections from Kaleen Rugs and Luxury Vinyl Tile samples. And, of course, the same excellent customer service, knowledge, and customer satisfaction that you've come to expect.
ANNOUNCING OUR SECOND LOCATION:
Clarksville Paint & Decorating, a Benjamin Moore Dealer
12447 Clarksville Pike, Suite 1A, Clarksville, MD