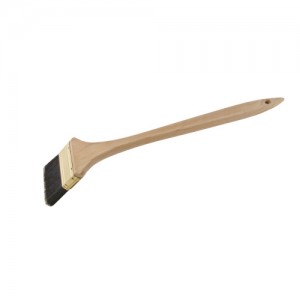 Is it time to repaint your wood paneling? There are a few distinctive and recognizable signs that will help ensure your wood paneling looks great all year round. But knowing when it's finally time to reliant them can be a little more difficult. In fact, understanding how to properly paint over wood panel walls becomes increasingly important for homeowners looking to refresh their spaces. Here are some useful and helpful tips to ensure your wood panels are properly and adequately repainted — when the time comes to do so.
Notice The Knots
The biggest obstacle associated with painting wood panels is the knots that are naturally occurring in wood. In fact, these knots tend to be quite invincible when trying to paint over them. The reality is, there are waxes and varnishes available that you will definitely want to use prior to applying the paint to help ensure the knots don't negatively affect your painting process. As a result, sanding can also be a helpful tool in removing knots from wood panels. Doing so can help increase the smoothness of the wood itself, providing a better finish to apply paint effectively and efficiently. 
Solid Or Veneer
Fortunately, when it comes to painting wood panels, having solid or veneer paneling won't change how you go about painting the wood panels themselves. In fact, once you've handled the difficult part of smoothing down the surface, actually painting wood panels isn't all that difficult. If you have ever painted any piece of wooden furniture, the experience is relatively similar. However, you'll always want to be mindful of protecting any neighboring trim or walls to ensure no excess paint gets on them. But otherwise the process of actually painting the wood panels isn't all that different from painting any other wooden piece of furniture. 
Bottom Line
At the end of the day, there is nothing better than a fresh coat of paint. In fact, when considering repainting your wood panels, it's imperative that you utilize the need to prepare the wood properly for the painting process — otherwise you could end up ruining the panels and leaving yourself unhappy with the final product. 
NEW LOCATIONS! COME VISIT US AND EXPLORE!
We've moved from the Dobbin Road location to our new, roomy location just down the road:
Columbia Paint and Decorating, a Benjamin Moore Dealer
6822 Oak Hall Lane, Suite C2, Columbia MD 21045
443-319-4001
Expect the same one-stop shopping for all your decorating needs. We are a full-service Benjamin Moore dealer offering the best quality of decorating products at the best prices around. We have a large supply of paint and paint supplies, wallcoverings, custom window treatments, fabrics, and now NEW flooring selections from Kaleen Rugs and Luxury Vinyl Tile selections. And of course the same excellent customer service, knowledge, and customer satisfaction that you've come to expect.
ANNOUNCING OUR SECOND LOCATION:
Clarksville Paint & Decorating, a Benjamin Moore Dealer
12447 Clarksville Pike, Suite 1A, Clarksville, MD