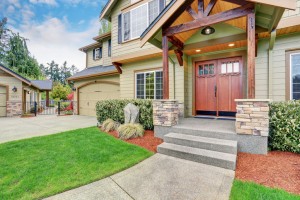 Did you know that the color of the outside of your home actually affects your indoor temperature? Well, it definitely does. The exterior of your home will either absorb or deflect the sun. As a result, having a conceptualization of the color of the outside of your home can make all the difference when it comes to the indoor temps in the house. If you are planning on revamping your home's exterior, here are a few things to take into consideration— particularly when it comes to painting it. 
How Much Does The Exterior Paint Color Affect The Indoor Temperature?
Well, the outside of any home can significantly have a lot more of an impact on the temperature of the inside of your home than you may initially think. In fact, while there is no set specific percentage or amount that this effect may have, the outside paint color of your home can actually play a role in the temperature of the inside of your house. However, there are a number of factors that also play a role in tandem with the color of your home's exterior. Things like the roof color and whether it happens to be light or dark can affect the indoor temperature of your humble abode. Also, the amount of light and darkness in your home can easily hinder the indoor temperature. From the amount, size, and quality of windows you have throughout your home and how much sunlight your home is situated into your indoor heating and cooling solutions and the exterior materials, there is a myriad of things that can impact your indoor temperature. But, paint definitely plays a role as well. 
Will Dark Paint Make My Home Warmer?
Many homeowners wonder if painting their exterior a dark color will make the inside of their home hotter. The reality is, just like wearing black attracts the sun, so does dark paint when it comes to your home. You'll end up expanding and using a lot more energy throughout your home causing your energy bills to skyrocket. Instead, opt for lighter color paint when redoing the outside of your home. 
NEW LOCATIONS! COME VISIT US AND EXPLORE!
We've moved from the Dobbin Road location to our new, roomy location just down the road:
Columbia Paint and Decorating, a Benjamin Moore Dealer
6822 OakR Hall Lane, Suite C2, Columbia MD 21045
443-319-4001
Expect the same one-stop shopping for all your decorating needs. We are a full-service Benjamin Moore dealer offering the best quality of decorating products at the best prices around. We have a large supply of paint and paint supplies, wallcoverings, custom window treatments, fabrics, and now NEW flooring selections from Kaleen Rugs and Luxury Vinyl Tile selections. And of course the same excellent customer service, knowledge and customer satisfaction that you've come to expect.
ANNOUNCING OUR SECOND LOCATION:
Clarksville Paint & Decorating, a Benjamin Moore Dealer
12447 Clarksville Pike, Suite 1A, Clarksville, MD