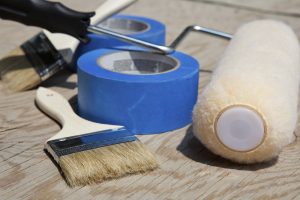 One highly recommended tool for any painting job is painter's tape. It is worth investing the time and money to apply painter's tape to the desired area; in some cases, it is even essential. Here are four significant benefits of painter's tape listed below.
Painter's Tape Offers Versatility
Painter's tape is incredibly versatile and can stick to any surface. It can cling to a window sill, allowing you to paint around it without hassle. This tape can also create attractive designs and patterns on walls. You can use it to make a checkerboard effect or a zigzag pattern, elevating the look of your walls.
Avoid Issues With Residue 
Unlike other tapes that may leave residue behind, painters' tape is residue-free. It has a strong adhesive that can securely stick to any surface. After the paint dries, you can easily remove the tape with minimal effort.
Painter's Tape Can Help You Save Time
Using this type of tape decreases the likelihood of errors, allowing for efficient and timely completion of projects. This tape can be used to paint various areas, such as the basement, bathroom, bedroom, or even the kitchen, ultimately reducing the time spent on the paint job.
Inexpensive But Effective 
Using painter's tape is both affordable and cost-effective. It's a wise investment because it guarantees a high-quality outcome and protects against errors. Like an insurance policy, painter's tape can prevent drips and other common mistakes when painting. Planning and taking precautions is essential to ensure the best possible result.
NEW LOCATIONS! VISIT THE US AND EXPLORE!
We've moved from the Dobbin Road location to our new, roomy location just down the road:
Columbia Paint and Decorating, a Benjamin Moore Dealer
6822 Oak Hall Lane, Suite C2, Columbia, MD 21045
443-319-4001
Expect the same one-stop shopping for all your decorating needs. We are a full-service Benjamin Moore dealer offering the best quality decorating products at the best prices around. We have an ample supply of paint and paint supplies, wallcoverings, custom window treatments, fabrics, and now NEW flooring selections from Kaleen Rugs and Luxury Vinyl Tile samples. And, of course, the same excellent customer service, knowledge, and customer satisfaction that you've come to expect.
ANNOUNCING OUR SECOND LOCATION:
Clarksville Paint & Decorating, a Benjamin Moore Dealer
12447 Clarksville Pike, Suite 1A, Clarksville, MD