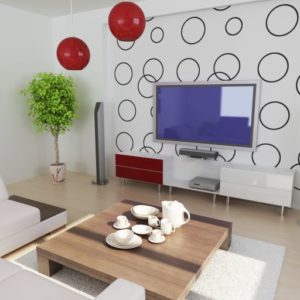 To enhance and transform your home's appearance, space, lighting, and mood, hanging wallpaper is an excellent option. However, it can be daunting and time-consuming, especially if you need professional assistance. To help you out, we've compiled a list of five frequently asked questions about wallpaper installations. These answers may prove helpful if you're considering adding wallpaper to your home's interior walls.
Is Wallpaper Durable?
Wallpaper can be an excellent choice for those looking for a long-lasting, durable, and cost-effective option for their walls. Wallpaper can last over a decade when installed, cared for, and maintained correctly. To further extend the lifespan of your wallpaper, be sure to choose high-quality materials and follow proper installation and maintenance procedures.
Is It Cheaper Than Painting A Room?
In general, painting tends to be less expensive than installing wallpaper. Nevertheless, wallpaper often offers more outstanding durability, a longer lifespan, and a more comprehensive range of high-quality designs, styles, colors, and textures, making it a more economical choice when decorating your house's interior.
Should You Apply Primer Before Installation?
Before installing wallpaper, it's important to apply primer to your walls. This will ensure that the surface is optimal for the wallpaper, making installation and removal much more manageable.
Can You Place New Wallpaper On Older Wallpaper?
It is possible to place new wallpaper over old wallpaper, but it is not advisable as it may lead to surface flaws and weaken the adhesive of the previous wallpaper. To avoid imperfections and ensure proper adhesion, removing any coverings, substances, or debris from the wall surface before applying the new wallpaper is recommended. This will simplify the application process and make it easier to remove the wallpaper in the future.
Can Wallpaper Be Added To Drywall?
While drywall may not be the most suitable surface for wallpaper, it is possible to apply it. It is essential to prime and prepare the drywall correctly to avoid any flaws and imperfections showing through the wallpaper and to ensure it sticks to the surface.
NEW LOCATIONS! VISIT THE US AND EXPLORE!
We've moved from the Dobbin Road location to our new, roomy location just down the road:
Columbia Paint and Decorating, a Benjamin Moore Dealer
6822 Oak Hall Lane, Suite C2, Columbia, MD 21045
443-319-4001
Expect the same one-stop shopping for all your decorating needs. We are a full-service Benjamin Moore dealer offering the best quality decorating products at the best prices around. We have an ample supply of paint and paint supplies, wallcoverings, custom window treatments, fabrics, and now NEW flooring selections from Kaleen Rugs and Luxury Vinyl Tile samples. And, of course, the same excellent customer service, knowledge, and customer satisfaction that you've come to expect.
ANNOUNCING OUR SECOND LOCATION:
Clarksville Paint & Decorating, a Benjamin Moore Dealer
12447 Clarksville Pike, Suite 1A, Clarksville, MD